Prices and Information
Self Guided Trips depart every 20 minutes from 10:00AM until 3:00PM.
Please call for reservations that way we can guarantee that we will have a boat for you.
Reservations are required for all guided boats
Group rates and discounts available, Please call for further information.
Trips take about 2 to 3 hours with river time, transportation and pre-trip briefing.
Trips go out rain or shine.
Cancellation Policy:
When you make a reservation with Tuckaseegee Outfitters, it is our commitment to hold a space for you and possibly turn others away from that particular trip date and time. Please understand that we must be firm to our refund/cancellation policy. If you find it necessary to cancel your trip, please notify us as soon as possible. You may cancel your trip within 24 hours of reservation for full refund. No refund will be issued if you cancel within 24 hours of the reserved trip date. Also, if fewer people show up for the trip all reserved spots will be charged.
Waiver
All guests will need to sign a waiver before going down the river. To maximize your time on the river and cut down on paper work at the Outfitters please feel free to print a waiver ahead of time and bring it with you.
Unguided & Guided Trips
Self Guided Trips depart every 20 minutes from 10:00AM until 3:00PM
Children
Adult
Raft
$15.00
$20.00
Double Kayak
$17.00
$22.00
Single Kayak
$30.00
$30.00

Whitewater Tubing (Mild)

$15.00
$15.00

Whitewater Tubing (Extreme)

$20.00

All prices are per person

Add $50 per guide for guided trips
What to Wear
The Tuckasegee River a whitewater but family-friendly river is warmer than the other float trip rivers in the area.
We suggest that you wear old tennis shoes or sandals, shorts, a t-shirt or a bathing suit and a hat with a visor. For cool or rainy weather you may want to wear a windbreaker or a light sweater. On sunny days sunscreen and a water bottle are recommended. Trips go rain or shine. Call if you have any questions. We have changing rooms, bottled water, and water shoes at the outfitter's store.
Sun Screen, hats, water shoes, and sunglasses recommended and can be purchased on site.
No waiting for return shuttle. Your trip ends back at your vehicle.
Reservations are suggested but not required. We cannot guarantee you a spot if you do not have a reservation. We have a large fleet of boats, and our staff will work hard to make your wait as short as possible. If you have to wait to take a trip with us we have plenty of picnic tables at our outpost for you to use. The tables are there for your use for lunch or snacks, before and/or after your trip.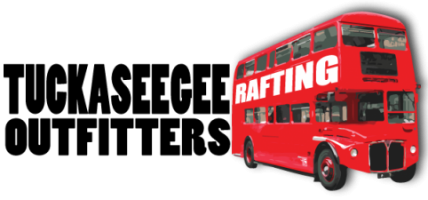 Whitewater Rafting in the Great Smoky Mountains
Tuckaseegee Outfitters
4909 Hwy 74 Whittier NC 28789