0Company History
Tuckasegee Outfitters offering Rafting, Kayaking and Tubing trips had simple beginnings. We started floating the Tuckaseegee in 1974 first in tubes then canoes and kayaks as a sport and with friends to unwind after class at the local University. The recreation potential grew in the area with the founding of the Great Smoky Mountain Railroad, bringing lots of families and kids to the area, most of the train trips were half-day leaving afternoon or mornings free for other activities.
We started TUCKASEEGEE OUTFITTERS in 1987 to give everyone in the family a river trip to enjoy. After years of working on one of the Heavy White Water Rivers, and seeing families turned or scared away, we found an easier section of whitewater suitable for families even with children down to 40Ibs or 4 years of age as our minimum requirements. The lower Tuckaseegee River Gorge is a scenic river trip with class 1 & 2 rapids.
Our outfitter is a simple operation offering self-guided and guided river trips. Trips run daily from 10 am and usually last from 2 to 4 hours with our last shuttle up the river at 3:00 pm.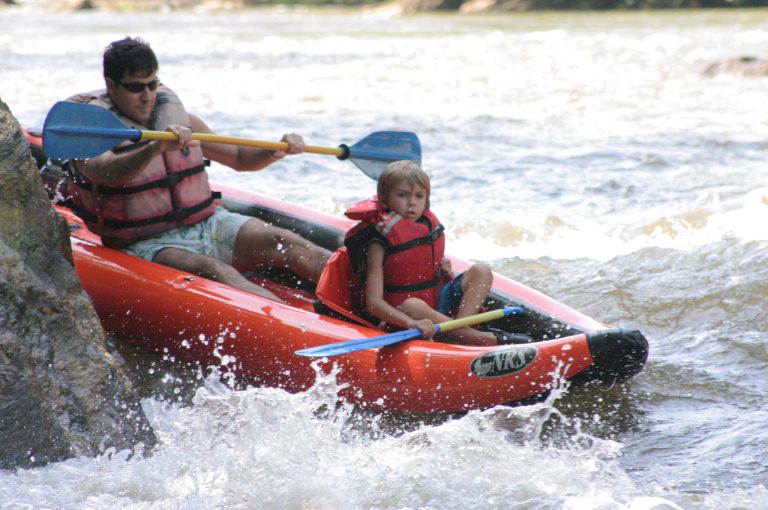 Self-guided trips run every 20 minutes and are run on a first come first serve basis, like a theme park. Reservations are not required but suggested and a must if your group is 10 or more.
We have a covered pavilion for picnicking and where you can wait in the small chance that you do have to wait for a trip to the put in, it hopefully will be short and pleasant.
Guided and unguided trips are run daily at 10:30 until 3:00, with the last trip leaving at 3:00.
All guests will receive a pre-trip briefing, river orientation, and instruction on boat handling. Life jackets are required and provided at no extra charge, as is the transportation upriver from our location. Parking and picnic tables are free for our guests.
The River
The Tuckasegee River an easier family-friendly river near the Great Smokies National Park. The Tuckaseegee is part of the Tennessee River Valley, its water eventually flows into the Mississippi River and on down to the Gulf of Mexico.
Located in the western part of NC flowing through a scenic mountain valley and several quaint communities. River trips start from our Outfitters at Barkers Creek Crossing in Whittier, NC 28789 on hwy 74 & 441. We issue equipment and do our pre-trip briefing at the Outfitters. The Outfitters location is where you park your car and return to at the end of your trip. We also have an outfitters store full of gear, t-shirts, snacks, and more for you to enjoy at the end of your trip.
The first few miles of the river flows in and around several islands. Keep a sharp eye out for Kingfishers, Blue Herons, several families of ducks or a bald eagle.
While warmer then some of the other dam controlled rivers in the area, the Tuckaseegee usually runs about 70 degrees in the summer months, we still have plenty of fisherman along the banks so please respect their space. The state record brown trout was recently caught upstream from out outfitters.
Downriver the rapids get quicker and closer together. The names often give you a clue as to what to expect. Check out our map section and take a look at some photos of the river experience.
You know the end is near when you see the Historic Barkers Creek Bridge. Our takeout is on the right under the new State Bridge located directly next to our outfitters so there is no 2nd bus ride in wet clothes to get to your car. Along with dry clothes and cold drinks only steps away we have a gift shop in the Outfitters Store if you feel the need for a t-shirt or even a GUIDE HAT you have earned it!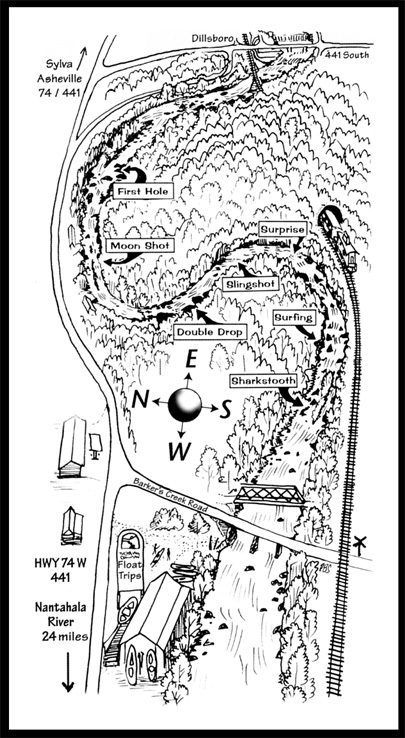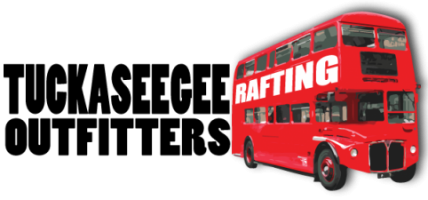 Whitewater Rafting in the Great Smoky Mountains
Tuckaseegee Outfitters
4909 Hwy 74 Whittier NC 28789