Choose your Craft
Different crafts for your group or solo adventure.
The Tuckasegee Outfitters a Leader in family river fun offers both Guided and Self Guided trips and has a large selection of river crafts. Generally trips last from 2 to 3 hours of on water time plus 1 hour for check-in, instruction and shuttle to the rafting entrance. Below is a in depth look at your choices…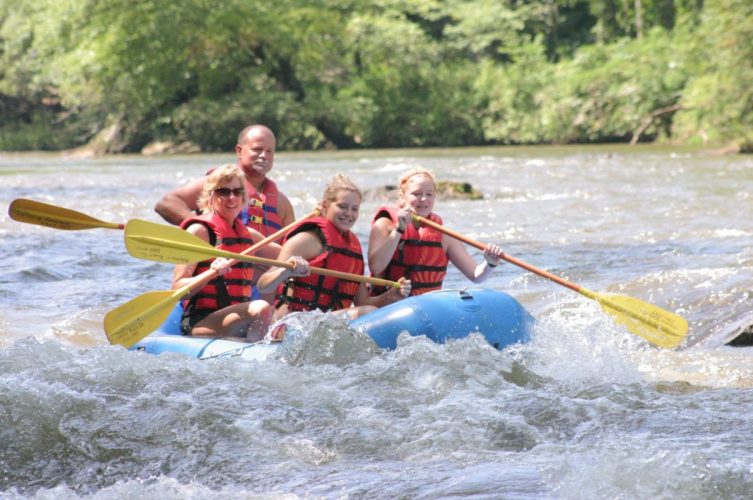 Rafts
Our largest river craft are stable and easy to maneuver. Our rafts are state of the art with large outer tubes for easy sitting. Central tubes offer a comfortable seat for all. The rafts sit up to 5 adults or 2 adults and 2 – 4 kids. Life jackets are provided for all rafters and we require that you wear them at all times on the trip. The minimum requirement for Rafts is 40 lbs or 4 years of age.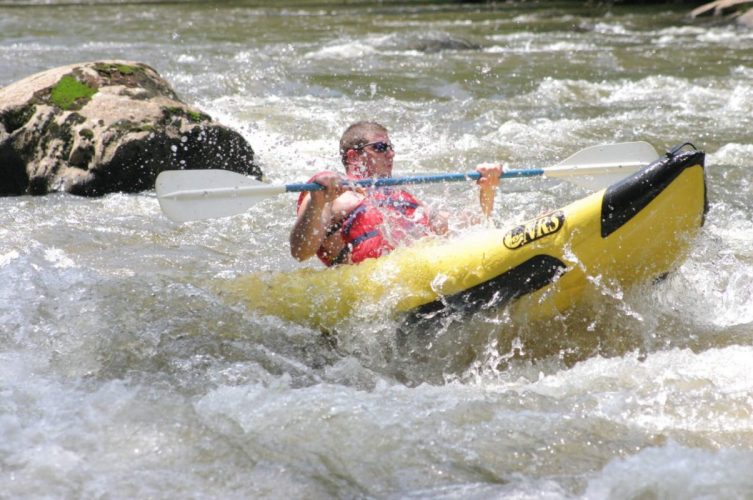 Solo Kayaks
Our sportiest and highest performance craft a kayak for the new millennium designed for one adult to paddle with a twin bladed paddle. Easy to handle and fast some of our funyaks have conquered the Grand Canyon of the Colorado in Utah. They are up to the challenge of the Tuckaseegee. During times of low water we allow a child to ride with an adult. The maximum weight capacity for ducks is 250 Ibs. We require all guests to wear life jackets (provided) at all times on your river trip. Minimum weight for Solo Kayaks is 90 lbs.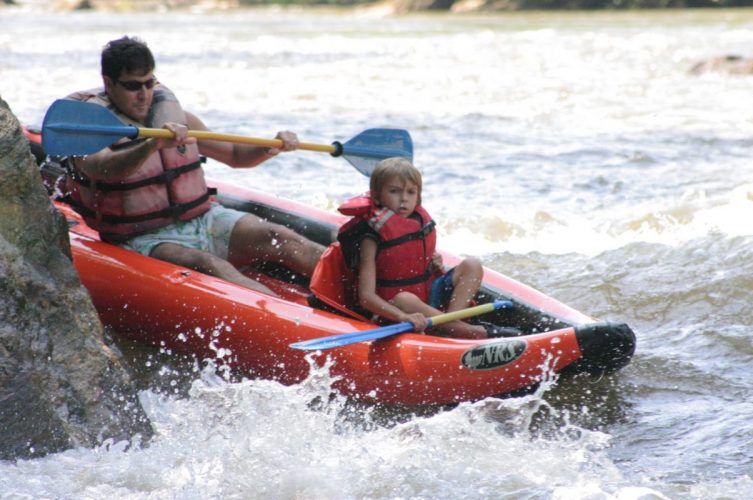 Double Kayaks
Our most popular craft able to handle high and low water conditions. Inflatable Kayaks are a hybrid of the best features of a canoe and a kayak with soft handling and stability of a raft. Inflatable Kayaks sit 2 adults or 1 adult and 1 child. During times of lower water we allow 1 adult and 2 children. The maximum weight capacity can't exceed 400 Ibs. Paddled with 2 canoe paddles or 1 kayak and 1 canoe paddle your choice. We provide life jackets and require you to wear them at all times on your river trip. Minimum requirement for a Double Kayaks is 40 lbs or 4 years of age.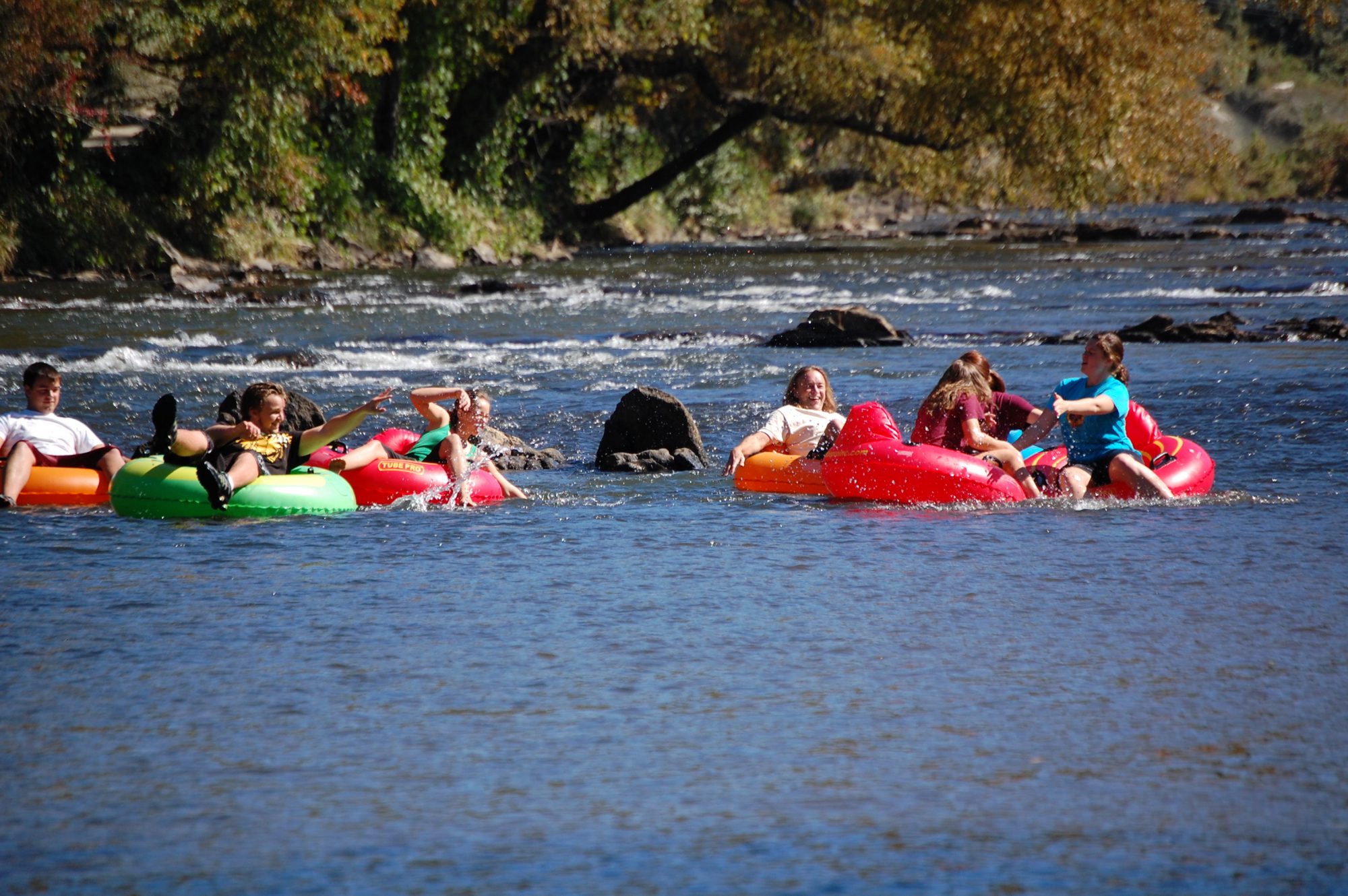 Whitewater Tubing (Mild)
Last trip @ 2pm.
These trips are taken from a different section of the river than the rafting trips. On this 3 mile – 2-hour trip you will start from the outfitter's store put-in and take a relaxing ride along the gentle currents of this calmer section of the river. Our tubes keep the riders comfort in mind, they have bottoms and heavy-duty rider support handles. As with all our river crafts, we provide life jackets and require that our guests wear them at all times during the trip. All riders must be 12-years-old. The maximum weight for tubes is 250 lbs.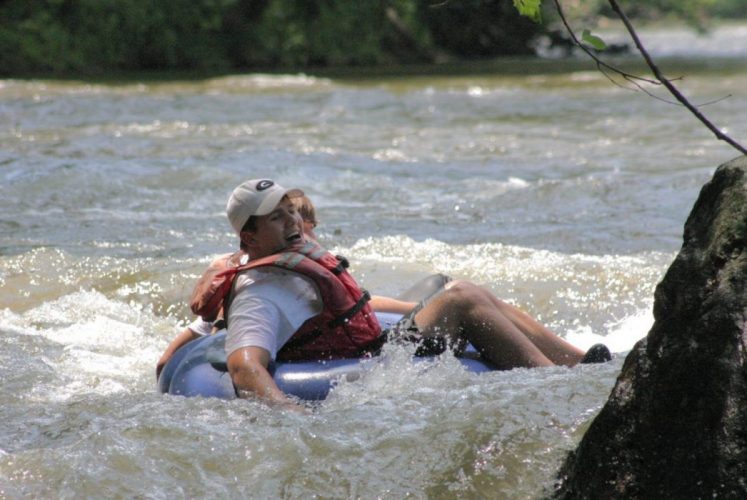 Whitewater Tubing (Extreme)
Last trip @ 1pm.
Exciting and full of adventure! Must be physically fit. 16 years and older. Travel the exciting Class I and II rapids.
This is not a lazy river! It has Class I and II rapids, which means 1-3 foot waves. Tubers must be physically capable of maneuvering around obstacles and have the ability to recover when tossed out. The maximum weight for tubes is 250 lbs.
On East Fork releases plan for 2-3 hours
On West Fork releases plan for 3-4 hours
LIFE JACKETS MUST BE WORN BY EVERYONE REGARDLESS OF SWIMMING ABILITY!
Whitewater tubing should NOT be considered a safer or easier option than traditional rafting or inflatable kayaking trips. Both sections of the river have areas of water that may be above head level; there are real rocks and trees that can get in your way. Swimming to retrieve your tube may be needed on both Whitewater Tubing trips.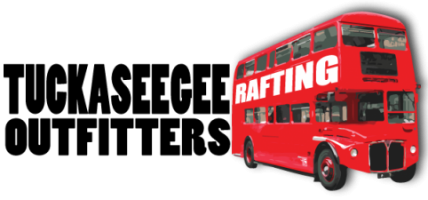 Whitewater Rafting in the Great Smoky Mountains
Tuckaseegee Outfitters
4909 Hwy 74 Whittier NC 28789